New Worker Magazine is the independent digital publication by and for people navigating the future of work.
We publish essays, critiques, opinion pieces, profiles of the people and companies who work from coworking spaces, and articles on the changing world of work. We favor thoughtful, earnest storytelling from a diverse range of voices. All of our content is original and independent and the views expressed belong to each author.
We also maintain the Coworking Press List and the NYC Coworking Map.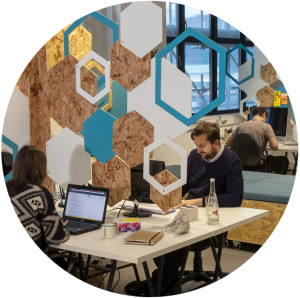 We began in December 2013 and launched in late May 2014 with an all-volunteer team of writers based around the globe. At the present moment, we are in a quasi-beta mode and are not yet generating revenue (though you are welcome to donate).
We've been featured in CBS This Morning, Deskmag, Shareable, OuiShare, Freelancer's Union, Social Workplaces, and in a bunch of blogs and podcasts.
Our foundering editor is Melissa Mesku, an entrepreneur, freelancer, and coworker based in New York.
What you see here is just a taste of what's to come. Get involved and let's shape the future of work.
Our mission
Inform, entertain, and inspire 

with insightful stories of the people, places, projects, companies, collaborations, and successes that come from coworking spaces around the world

Enable coworkers

 to share their stories, work, ideas, critiques, and best practices with a global audience of their peers

Build an international community

 of like-minded people and foster a shared coworker identity

Demonstrate coworking's value

 as a work/life choice and a force in the economy

Broaden coworking's effectiveness, scope and reach

 by supporting the growth and hybridization of coworking
We are 100% open to your suggestions, recommendations, late night burning questions, mad revelations, and of course your participation.
Drop us a line at info(at)newworker.co.