Coworking in Denmark's "Cold Hawaii"

by Karis Hustad
You wouldn't expect to find a coworking space in a small fishing village on the North Sea. And you probably wouldn't expect one of Europe's up-and-coming surf hotspots to be located in Denmark. But in Klitmøller, Denmark, dubbed "Cold Hawaii," you'll find both, thanks to local surfer and freelance project manager/consultant/small business owner Rasmus Johnsen.
He's the founder of Cowork Klitmøller, a coworking space that serves local residents and frequent visitors (who Johnsen calls "beta-residents"), who came to Klitmøller for the surf but stay for the growing community.
Johnsen seeks to grow Klitmøller as a destination for visitors and transplants to Northwest Denmark without riling locals who are protective of this village's precious surfing resource.
His diplomatic tool of choice? Coworking.
"It's a place where you can come, you can work, you can communicate, you can connect, but also you can explore and discover the area through the people that are here," Johnsen said.

It's hard to miss Cowork Klitmøller, not only because it is one of the few businesses along Ørhagevej (Klitmøller's main drag), but because of the building's striking design.
Set slightly back from the street, there's a large window (in a previous life, the garage entrance to an auto-mechanic shop) that looks directly into the showroom of resident indigo-dyed goods label Slow Works. Inside, past a small kitchen and table, you'll find a cozy open work space with various sitting and standing desks, as well as an all-glass conference room. Light wood and polished gray walls are decorated with locally-made art and lush plants. Massive windows that extend to the triangle roof, which allows the room to be flooded with light no matter the weather (a key feature given Denmark's short winter days). A characteristically Scandinavian perk: There's a sauna and hot tub available for use just outside the building.

But the best perk is just a five minute walk out the back entrance of Cowork, past thatched-roof houses and over a sand path in a dune covered in tall grasses permanently bent in the blustery wind: The North Sea. On a typical day the gray-blue waves are dotted in surfers and standup paddle boarders sharing swells, while colorful kite surfers and windsurfers navigate cresting waves in the distance.
Klitmøller, located in the far northwest corner of Denmark's Jutland Peninsula, is nicknamed "Cold Hawaii" due to the wind and reef patterns that create the caliber of waves usually seen in surf meccas in the South Pacific. Its conditions have drawn surfers in Northern Europe and Scandinavia since it was discovered in the mid-1980s. Now it is drawing global attention: The ISA World StandUp Paddle and Paddleboard Championship was held in the region this summer, and the small town has hosted windsurfing world championships for several years. The attention from the international surf community has brought a growing number of surf-seekers in Denmark, Europe and around the world to this spot on the Western Coast.
This is due, at least in part, to Johnsen. He moved to Klitmøller in 2006 from Odense, a large city in southern Denmark, after frequenting the North Sea coast for years. Within a year he was part of a team that proposed rebranding the Northwest coast to "Cold Hawaii," combined with a push for tourism to draw in both city-weary Danes and intrepid surfers seeking the next off-the-radar surf spot.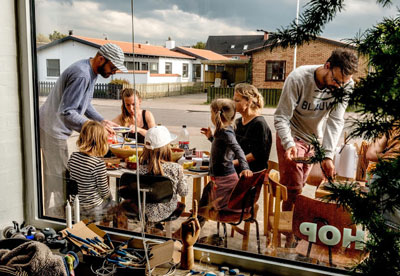 As Johnsen worked on this project he convinced a friend to join the freelance life, and they started working together out of a rented house. Then another friend joined. And another. Soon they were roughly a dozen people working in the same place—coworking, without the official space. It was enough to indicate to Johnsen that there was the need for work space among permanent residents, but he also saw the need to grow the community in fear of becoming too insular.
"I was always aware that working with the things that we are working with from a little village like Klitmøller on the outskirts of the country and only be together with these eight or ten guys and girls was dangerous," he said. "Basically because things are moving so fast, you need to expand your network and be introduced to new ways of thinking and new ways of doing stuff."
Particularly, he saw coworking as an opportunity to re-write the locals versus surfers narrative that can be seen at surf spots around the globe.
"When you visit other place there's this gap between the locals and the visitors," he said. "It comes from the fact that everyone wants the waves. And the more people that want the waves, the less waves for each person. More tourists, the less waves, and therefore you hate the tourists."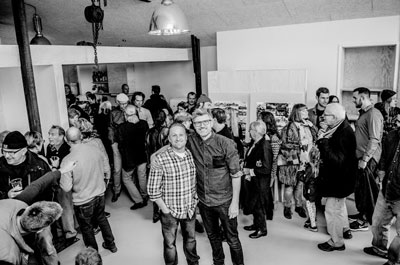 "That's kind of the opposite of what I'd like to create," he added. "Because this connection, and therefore dialogue, between the people who live here and the people who come here is essential to creating a constructive atmosphere on the beach."
Over the next few years achieving this vision of Cowork Klitmøller took various forms, including rented houses, taking up half an auto-mechanic shop, and plans for a more expansive space with funding from a philanthropic organization. But in the end Johnsen decided to build the coworking space independently, and partnered with local WestWind Surf Shop owner, Rasmus Fejerskov, who built Guest House Klitmøller next door. Cowork Klitmøller officially opened its doors last April.
Today, Cowork Klitmøller has nine permanent residents, who range from graphic designers to a knitwear designer to a musician. They also have a community of between 50 and 100 "beta-residents" as Johnsen calls them, the part-timers who have utilized the space when in town for a longer period of time. Renting a chair ranges from 6 euros for four hours to 60 euros for weekly access (the sauna and hot tub are extra).
Visitors can drop in to find out more about the community at their coworking-wide lunches or a monthly Friday Bar (a uniquely Danish tradition that's essentially a BYOB open house).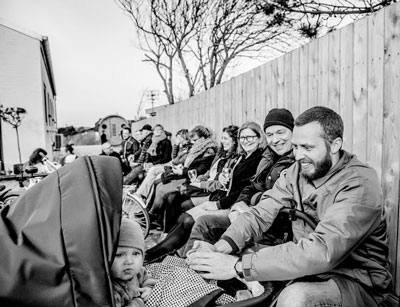 While Johnsen has found success thus far, he doesn't anticipate growing Cowork into a more expansive enterprise (in other words, don't expect Cowork to become the WeWork of West Jutland). But that isn't to say that others aren't picking up on the live, work and surf vision: Another coworking space, Surf & Work, is in the works just 13 kilometers south in Vorupør.
Encouraging visitors and locals to work together and surf together is the way to sustain and grow this Scandinavian surf spot, Johnsen said.
"What we have in common is we are both very heavily invested in the area," Johnsen explained. "And those are the people I want to bring together."
This article has been updated to clarify the location of the ISA World Championship.
Image credit: Photos courtesy of Mette Johnson.