iRegular Project's gorgeous, inspiring use of collaborative design

by Melissa Mesku
If you asked Madrid native Inés Arroyo a few years ago what she'd be doing now, she'd have told you, "Much of the same."
Cut forward to now. Because of a collaborative project Inés dreamed up, she is now head of a team of 120 passionate creatives, gets to work with friends, has traveled abroad and learned a foreign language (San Francisco and English, respectively), and even graced the stage to give a talk at TEDxLeon.
A lot can come from a little idea
Inés worked for years as an art director at a design agency where she became well versed in the power of design. Good visual design can capture the eye and touch the heart; great design can even make an indelible impression. She worked for large clients and put that visual understanding to use to enrich their brand messaging to help them meet their marketing goals.
After work, Inés had goals of her own. She was learning English. Or at least she was trying to, when she wasn't frustrated by one of the most obnoxious aspects of learning this language: mastering the irregular verbs.
There have been plenty of advancements in pedagogy but nothing can change the fact that irregular verbs must be learned by memorization. And English has an inordinate number of them. They're not fun to teach, they're not fun to learn, and they never go away. Indeed, to be (am, is, are; was, were; being, been) has always been the question.
So Inés tried to think of a new approach. She had to memorize these verbs, and so too must countless millions of people who are working to learn English. But wouldn't it be a lot better if it were more stimulating, or even just less boring? And if it was interactive, or fun, or beautiful, something people actually wanted to focus on, wouldn't that make learning less painful? In one of those moments where one sits pulling their hair out over a frustrating problem, Inés came up with the idea for what would soon become the iRegular project.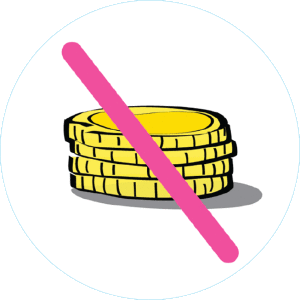 She was pretty sure people would love it. It was something that someone, somewhere should create. But Inés had a job so she didn't have much spare time. And she didn't have the money to pay designers or developers or get an office and start a company. That would be an expense, a risk. She didn't see how she could pull it off.
"I was only an art director; never in my life had I started something with an idea of my own," she told us.
While she may have not seen that possibility in herself, she had a friend who did, and luckily her friend made it a point to tell her so. Sometimes when people believe in you it can be contagious: if you don't watch out, you might just catch the "Hmm, I kind of believe I can do it, too" disease. Inés did, and it started to make her do strange things, like planning to create something for her own reasons and not at the behest of a client.
"I may not have the money for it, but I have the vision, I have my effort, and I have my background," she said at the time. "I bet I can start this project with what I have right now."
Her goal was to create an iPad app that showcased the most common irregular verbs, where each English verb and its multiple conjugations would get a totally unique and befitting design treatment. She wanted them interactive, bold, and playful – something to be enjoyed by English-language learners of any age.
Initially she planned to reach out to friends she knew from the design industry and hoped to source a couple interested people. But once she started talking about it, it started to take on a life of its own. She showed them some designs she made, examples of what she wanted to create, and her friends were enthusiastic. Better still, they were enthusiastic enough that they wanted to contribute their own.
The accidental collaborator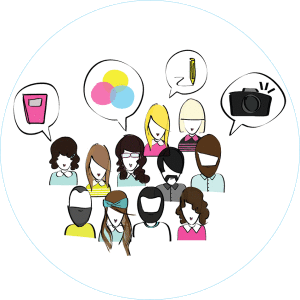 Inés was well versed in how to harness the power of great design, but she wasn't sure about harnessing the power of people. Right around that time, she stopped working from home and started working from Utopic_US, a coworking space in Madrid. That's when things started to move fast.
New coworkers she shared the space with wanted to participate. Some were designers. Some were illustrators. One was a musician, another a photographer. All liked the project and were happy to help out. Within the span of a few weeks, she was at the center of a collaborative network of people that wanted to be involved in one way or another. That's how the iRegular project was born.
"My coworking space is my 'operation center.' A lot of people at my coworking space are on the iRegular team. When you get to work with your coworkers face-to-face, projects move quickly," said Ines.
The number of collaborators grew to a hundred and twenty — "all people working for free and together for the same idea, to improve education with design and creativity."
The first version of this project has 54 English verbs presented through an iPad app. Each word is illustrated and designed so that students can understand its meaning in a visual manner.
In the first day of its release it had 2000 downloads. It held the spot of number 1 free educational app in the iTunes app store, and the leading Spanish newspaper, El Mundo featured the iRegular project on its front page.
The iRegular project goes international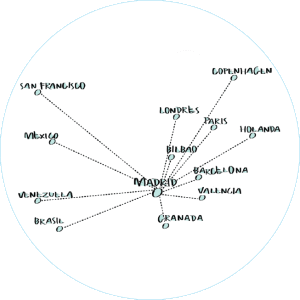 Inés had her hands full with the app, the team, and the press, but let's not forget all this came as a result of her desire to learn English. So last summer Inés decided to come to the US for some immersion in the language. She based her stay in San Francisco and Silicon Valley "for inspiration."
While in the area, she connected with other designers and again found herself collaborating with them on the project. As a result of her travels, the app team is now based in Madrid, San Francisco, and London.
"The most important thing about this project is the people. To believe in people is everything. I personally know and speak with all the contributors. Nobody is alone because all the contributors have a team to help."
She returned to Spain after three months, but remains connected to the contributors she met in the US.
"We Skype with the coauthors on other continents because it's very important to feel you're work in a group. I love the experience of working in a team toward a common goal."
Back at home, every three months she organizes meetings with the contributors that live in Spain.

A funny thing happened on the road to Valladolid
Another significant thing happened while was traveling, this time a little closer to home.
Last year, Inés was on her way north from Madrid to watch TEDxValladolid. Along the route she stopped off somewhere and got to talking to a random stranger who was also heading to Valladolid for the event. They chatted about the talks, and then the conversation turned to, "What do you do?" She told the random stranger about the project and her recent travels. That's when she found out the man she was speaking with was the organizer of TEDxLeon. He asked her on the spot to speak at his event. The theme of the talk that year was to be "experiences," and she felt she could speak well to that topic (maybe even in English). She readily agreed.
And then it almost didn't happen
She focused her energies on preparing for the event, but it seemed life had other plans. The day before she was to give the talk in Leon, her cousin passed away. Grief stricken, she cancelled. She spent the day with family. But at the end of the day she got to thinking.
"TED's premise is to share 'ideas worth spreading' and I thought about it, realizing that my experience was worth spreading, for my cousin and other people like my cousin with educational problems," she said.
"Education is really important. Education and love are the best ingredients for a healthy life for children and for adults," she told us. She knew that her cousin would have wanted her to give the talk, so she decided to go ahead with it. Her inspirational TEDxLeon talk, about the process of creation and how ideas blossom, can be found on YouTube.
What's next
The iRegular project has now grown and the team is developing an online store that sells toys based on some of their most popular designs. They're working on a crowdfunding campaign and are finishing up an Android version of the app that will feature translations into 8 languages other than Spanish.
Reflecting on the whole experience, Inés said, "I get to develop this project with people at the top of their field, but even more important, they're the kind of people that are working toward their dreams. We started this project with 8 friends and no funding. Now we are 120 professionals and everything has been possible thanks to the vision of this team. We're a community of people that work everyday to move the world. Maybe we'll move the world one pixel, but one pixel may be the difference."
The iRegular project app is available for free download. The next version of the iRegular project app will be released this summer for Android and iPad, and features more verbs and translation into Chinese, French, German, Italian, Japanese, Portuguese, Russian, and Swedish.