LabCentral is creating the first coworking laboratory for life science

by Sonya Iverson
"It's the best lab that I could possibly have imagined working in," says Dr. John Gill, drinking coffee and sitting on a vibrant pink leather couch. "I've been working in laboratories for, oh, it will be thirty years this year. And this is by far the best facility, with the best equipment, the best environment for collaboration and interaction with other scientists. It fosters a lot of cross pollination of ideas." Dr. Gill is the Director of Research for Audion Theraputics, one of nearly thirty companies renting laboratory space in a novel sort of coworking space in the heart of Cambridge, Massachusetts.
LabCentral, a nonprofit institution, rents 28,000 square feet of prime Kendell Square real estate in the heart of the MIT campus and manages the world's first fully resourced coworking laboratory space for life science startups. A custom built facility that is two parts state-of-the-art laboratory and one part Andy Warhol retro style modern workspace, it was built to suit and permitted as a Biosafety Level 1 and 2 (BSL) lab space. When it opened its doors in November of 2013 it was home to eight life sciences startup companies and is currently operating at capacity with a waiting list. Now, barely a year later, the management at LabCentral has their eyes on major expansion with plans to more than double capacity in the next two years.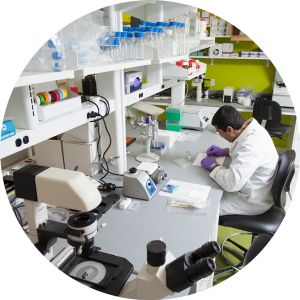 The concept was born out of frustration when two of the founders, Johannes Fruehauf and Peter Parker, began Cequent Pharmaceuticals in 2006, spending six months and precious resources to lease and fit the office and lab space. After selling Cequent, Fruehauf and Parker moved on to new ventures in the Cambridge Innovation Center (CIC), a technology focused hub founded by Tim Rowe who would become the third co-founder of LabCentral. It didn't take long for the light bulb to flash in what is commonly referred to around here as an "oh duh" revelation when these three scientist-entrepreneurs realized that the CIC model could be adapted to laboratory research and enable an entirely new sort of coworking habitat.
With easy access to collaborating researchers on the MIT campus, not to mention the proximity of Harvard and Boston University and local industry giants like Novartis and Pfizer, the location fosters a wide range of relationships. LabCentral focuses on the human connection beyond simple proximity by facilitating interaction between their residents and corporate sponsors with hosted seminars and social events. When I first contacted Caroline Grossman, media representative for LabCentral, I was offered an invitation to the 1970's flower power themed company holiday party. Perhaps the next great biotech story began that night, inspired by polyester suits and flowered headbands.
"I don't think there are going to be technologies invented in garages anymore," says Grossman. "I mean the way the world works is more this sort of shared 'you bring your peanut butter and I bring my chocolate and we have a better candy.' You know, that kind of idea. And that's what so exciting about LabCentral. This is the first place, really, worldwide, to embrace that in every aspect in terms of lab-based life sciences companies."
With initial funding from a Massachusetts Life Sciences Center initiative to support the biotech startup community, LabCentral's coworking laboratory and office space currently features 30 bench spots and 14 desk spaces at a rental cost of $3,600 and $400 per month each, respectively. Eight private laboratories are also available, which can each accommodate up to 8 researchers and range in price from $14,000 to $16,000 per month. Private offices start at $900. And of course, all rental agreements include access to the coffee bar and kitchen area.
There's a circular type of energy involved in LabCentral. By drawing the most promising startups to this space, they are creating a sort of scientific capital. This aggregation of potential draws sponsorship from companies like New England Biolabs, a major enzyme manufacturer, and LabCloud, a startup focused on web-based laboratory management. Through these sponsorships, LabCentral is able to provide their residents with group purchasing similar to academic pricing on reagents and consumable supplies and foster partnerships between established and developing companies. In turn, these sponsorships make residency at LabCentral increasingly desirable and the application waiting list keeps growing.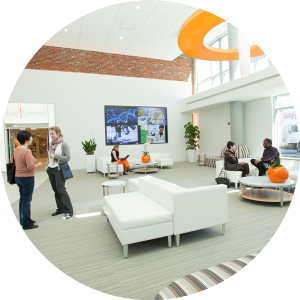 One of the greatest advantages to this flexible turnkey laboratory space is the rental agreement. While leases are signed for two-year periods, companies can leave without penalty with only thirty days' notice. In a make-or-break world, this flexibility and low capital input for space and equipment can be the key to success. When business flourishes faster than expected, successful startups can move on to larger private spaces on their own, taking with them the connections and corporate relationships developed at LabCentral. This flexibility also enables entrepreneurs to test out an idea with minimal capital and risk. It is much simpler for entrepreneurs to make a rational decision to call it quits and move on to the next venture when necessary, compared to a company which has invested hundreds of thousands of dollars in real estate, equipment, and permitting.
Of course, there's the concern about intellectual property when 25 commercially focused startups aggregate in a shared space with glass walled rooms. However, according to VP of Operations Maggie O'Toole, this isn't much of an issue. "I've had some people say they're not worried about it because they just think, 'Good luck trying to figure out what I'm doing,'" she says.
The resident companies focus on a wide range of topics from molecular therapies for hearing loss (Audion Therapeutics), to early identification of skin cancer using mobile apps to track mole growth (Constellation), and enhancement of antibiotic treatments for a range of applications (EnBiotix). With this variety and the many diverse skills and experiences gathered in one space, the potential benefits of coworking here heavily outweigh concern over intellectual property issues.
Given the obvious success of LabCentral's approach, the Massachusetts Life Sciences Center has recently announced a second $5 million dollar grant awarded to the nonprofit to enable expansion into the next two floors of their Kendall Square building over the next two years.
In an age of increasing transparency and communication in the biotech community, LabCentral seems to be on the forefront of a new way of doing commercial science.
More information can be found at www.labcentral.org.
Photo credit: Photos courtesy of LabCentral.