Having it all: coworking with childcare

by Kelly Baug
Earlier this year, PepsiCo CEO Indra Nooyi made headlines with some now infamous remarks about the improbability of a decent work-life balance for career-minded mothers. This was preceded by a buzz-worthy Atlantic Monthly article, "Why Women Still Can't Have It All," by Anne-Marie Slaughter, president and CEO of the New America Foundation. These galvanizing claims make headlines because they rock up against decades of feminist struggles to make the workplace more inclusive.
Some may think the working parent can't have it all. But not everyone buys it. Especially not the entrepreneurial women behind a new coworking trend that aims to change the way parents work.
In only the past few years, the world of coworking has seen the rise of a new workplace model: coworking with childcare. These facilities act as an all-in-one space where parents can drop off their young children at a professional childcare center next door to their coworking office. Such an arrangement aims to let working parents have it all – productive time away from home, yet with the peace of mind of having one's child nearby. It's a dream long held by working parents.
It's also becoming a necessity for a generation of new workers. According to a 2013 report by the U.S. Bureau of Labor Statistics, 54.1% of married couples with children under 6 years old had both parents working. Approximately 3.6 million mothers with children under 3 years old were also full-time workers.
Yet traditional offices have always posed a challenge for parents trying to raise kids, particularly young children. Corporate office environments are not kid-friendly; rarely does an office open its doors to the children of their employees even one day a year, let alone 365. There is no space available for them, no resources, and most importantly, no one to supervise. Yet daycare and after-school options are often expensive, and sometimes far from work and home.
A few coworking establishments have acknowledged this problem and are offering a solution. NextKids, an offshoot of the California coworking chain NextSpace, is the first of its kind in the U.S.
Diana Rothschild, who developed a model for NextKids, was a new mom trying to balance home and work and saw the need for a childcare space near a parent's workplace. So she toured 150 daycares and preschools around the country to learn how they function. "[Rothschild] didn't feel that it was right to have to compromise being a mom or being a consultant to Fortune 500 companies," said Sarah Shimkunas, Care Curator and Chief Auntie at NextKids.
"The relationships are very strong here," Shimkunas said. "In a traditional day care, parents are in a big hurry to drop off and commute to work, are disconnected all day, and then come back at the end of the day when kids are tired and everyone's leaving and there isn't really time to bond or share a lot of information. Our parents are able to be relaxed knowing that when they come in, they are already at work, their children are under the same roof and just a wall or two away, they can come peek or visit anytime, and they have much more opportunities to talk, bond and connect with their child, teachers, and other parents."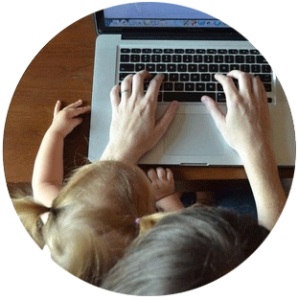 Across the pond, another space has seen huge successes. Third Door, the premier coworking-with-childcare facility in the United Kingdom, launched its operation in London in May 2010. It was the brainchild of Shazia Mustafa, who began researching the concept and collaborated with her husband, Yusuf, to get the project off the ground.
Business has flourished over the past four years. Since its opening, Third Door has won numerous small business awards, cementing its position in the local community.
Another successful facility in the UK, My OutSpace Business Centre, of South London, had to overcome a number of obstacles before opening their doors. My OutSpace, which offers a play space, kids' workshops with cooking and crafts, and family-friendly networking events, ran into setbacks while trying to find suitable accommodations. Yuliana Topazly, director and founder of My OutSpace, searched for 18 months and was let down by four different locations before she discovered the property they currently occupy. The facility is now an entire floor rearranged to be coworker- and child-friendly.
The most common problem for coworking-with-childcare businesses today is finding an appropriate location. Though requirements vary widely, opening a childcare facility burdens the business with a huge number of controls, such as space requirements (indoor and outdoor), licensing requirements for both employees and businesses, strict adult-to-child ratios, and more. Topazly said, "There is a huge supply of commercial properties, yet it is still so hard to find one that works."
Some established coworking spaces have sought to open a childcare branch but have been met with miles of red tape. In Seattle, two women are trying to make it work. Jessie Rymph and Marnee Chua co-founded Works Progress in 2012, a member of the Seattle Collaborative Space Alliance, when they began to realize that opening a coworking space with on-site childcare was going to take longer than they had hoped.
"Coworking with childcare is a no brainer. You want the peace of mind to know that your children are in a warm and caring environment and that you can get your work done without hassle," said Chua. Unfortunately, licensing requirements are substantial hurdles that prevent the idea from becoming a reality. The planned childcare branch of Works Progress, named Ellie's Coworking + Childcare (a nod to Eleanor Roosevelt), proposed early on to run a drop-in center managed by parents in the program. They soon found out that such a drop-in center would be subject to Washington state regulations for childcare facilities, requiring, for example, that any parents working on-site with infants must hold a special license.
On top of that, finding a facility that is large enough, and affordable enough, to house both a coworking space and a childcare center, is tough. Costs for such spaces can be prohibitively high, and costs that will necessarily be passed on to families will likely discourage many from participating.
"Ideally, we are seeking a 4-6,000 square foot facility that could provide about 1,500 square feet of coworking and leave the remainder for a maximum of 3 care rooms, have parking on-site and space for an outdoor play area," said Chua. "This combination, as I'm sure you can imagine, is difficult to find in an urban area."
It is a challenge echoed by Nikki Ricks, cofounder of Collide Coworking in Chicago. "To have it be successful, we need a good amount of space that's separate enough from the parents, and also a space with parking. Here everyone has cars, 95% of parents have cars, and they are not going to take CTA [public transit] with their kids."
Collide is currently building up their membership base before expanding into a full-fledged coworking and childcare facility. They host regular work-and-play events at local establishments, meshing the two experiences together. The Little Beans cafe, for example, is a supervised play space that offers Collide parents a room to work in during these events. Another local facility, Free Range Office, does the opposite. As a coworking space, Free Range Office allows Collide parents to transform a conference room into a play room for the day.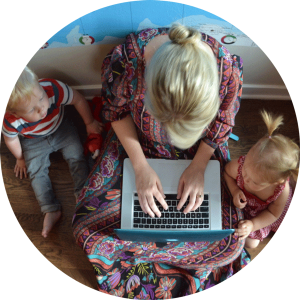 Collide plans to get the word out by using these events to establish their place in the community before opening a complete coworking with childcare operation. "I was researching coworking spaces and found that many close down within two years of opening. That's why we're focusing on building up our base," said Ricks.
A number of coworking spaces have ultimately found the struggle to operate their own childcare facilities unnecessary or extraneous. Four months after opening 757 Creative Space in Norfolk, Virginia, Clint Dalton and his wife Sarah Gregory-Dalton welcomed their first child. They knew that they wanted a work-at-home situation, and so began bringing in their daughter to work with them, eventually building a 500 sq. ft. room and filling it with toys and amenities for toddlers. In the early stages, they began looking into how to start a childcare facility on site. It became clear, however, that such a formal business model was unnecessary.
The more they researched state childcare rules for factors like population density, the ratio of indoor to outdoor square footage, etc., the more they found the regulations to be cost prohibitive. "We didn't want to create a more expensive situation, so we pulled back from the more aggressive idea," said Dalton.
The couple worked out a trade arrangement – babysitting for work time – which became a sort of "ad-hoc cooperative," according to Dalton. "We live in a sort of conservative town. It's not the same market as New York or Chicago. Our set-up worked perfectly for the number of people who were looking for something like that."
This sort of community-minded enterprise may just be the answer for smaller coworking spaces who are still searching for a viable childcare option. Dalton said, "[We are] quite happy with the balance we struck. Even if it didn't turn into a revenue source, it solved the problem for everyone."
Yet for those businesses that already made it past the early hurdles, the future looks bright. Watching their customers succeed within the facility and grow their businesses is among the most rewarding experiences for Topazly of My OutSpace. Noting that parents are not likely to travel more than five miles away from their workplace to search for childcare, she wants to see My OutSpace grow beyond their local model, perhaps franchising in London and abroad.
Third Door is also looking for opportunities to expand. "Our challenge now is creating a scalable business and making our second and third sites profitable in a shorter time frame," said founder Mustafa.
The right time and the right place makes all the difference. Glaucia Martin-Porath is confident in what the future holds for the industry. She plans to open up The Women's Plaza in the fall of 2015 in Portland, Oregon, which will be the first coworking space dedicated specifically to working mothers. A partnership with a local childcare center that already has six locations is in the works, and will take the pressure off of The Women's Plaza to establish their own childcare facility as they open their flagship location.
Martin-Porath calls it "finding the right recipe." The Women's Plaza will also offer opportunities for companies to rent space to working mothers to use as satellite offices. Some local evidence that she has seen in Portland points to a huge need. There, the Nike corporate campus offers daycare for its employees' children and demand is high.
In such a new, niche industry, there are bound to be hiccups. However, the passion with which these women speak about empowering working parents makes it clear that the struggle is well worth it.
Perhaps the greatest perk of having your child near your workplace? They'll get to watch you have it all.
Photo credit: Original photos courtesy of Collide Coworking; filters and editing via New Worker Magazine.