Is it Žižek? No, it's crowdfunding
by Melissa Mesku
On a spring afternoon last May, Jurij Lozić and Luka Piškorič were in downtown Ljubljana, Slovenia, doing a live demo of Musguard, a rollable bicycle fender that Lozić had just launched on Kickstarter. While chatting with a group of helmeted cyclists, someone across the street caught Piškorič's eye. Piškorič and Lozić shot each other a look that confirmed it: it was one of Slovenia's most internationally known personages, "rockstar philosopher" Slavoj Žižek.
They grabbed a Musguard and ran over to see if he would sign it. Žižek scrawled his signature on it and Luka snapped a photo of the impromptu celebrity endorsement. He immediately put it up on Facebook, and before the day was through, the photo had reached 5000 people. Their campaign had hit its tipping point.
They may have gotten lucky with the celebrity snapshot. The campaign raised over 4 times their funding goal, and the product is now carried by the Museum of Modern Art store. But Musguard's success had more than mere luck going for it: it had the backing of Poligon Creative Centre's Crowdfunding Lab.
Poligon Creative Centre in Ljubljana, Slovenia, is a coworking space, makerspace, and home to the Slovenia Crowdfunding Initiative. This triple-threat, headed by co-founder Luka Piškorič, has consistently produced some of the most successful Kickstarter crowdfunding campaigns to come out of coworking, with some campaigns raising more than 20 times their goal. The team behind it is not made of professional crowdfunders, but a group of coworkers who were already part of Poligon. After 10 successful campaigns, they have now become experts in their own right.
I'd been playing email tag with Piškorič for weeks so he could tell us more. In April he was on his way to Zagreb for Design Week. In May, Germany. He's been all over Europe lecturing on how coworking spaces can serve as a home base for crowdfunding campaigns. Then when he got back home he hosted a crowdfunding conference at Poligon. And yet it's not the combination of coworking and crowdfunding that drives him. Piškorič is on a mission to help coworking spaces be more deliberate about creating economic value for their members.
We finally met, and worked to create New Worker Magazine's guide to turning your coworking space into a crowdfunding powerhouse. But it's the more interesting parts of the backstory that we bring you here.
Backstory
From the very beginning, Poligon was going to be more than a coworking space, because it had to be.
In 2011, Piškorič and cofounder Eva Perčič had the ingredients for a thriving coworking community. They knew plenty of freelancers, artists, and startups from having worked at a social and market research firm. And the community was growing due to an economic situation that increased the number of independent workers as it decreased their opportunities.
Piškorič and Perčič had been inspired by coworking spaces they'd visited, like The Hub in Vienna, and Betahaus and Agora Collective in Berlin. These thriving places typified what they wanted to create. But in Ljubljana, rent prices and people's incomes were out of step. Obtaining a space for their community would require a sustainable business model with membership prices that their community members could afford, which just seemed out of reach.
By 2012 they didn't have a space or a business model. Instead, during Global Jelly Week, they launched the Slovenia Coworking Initiative to help promote coworking as a viable solution for the growing ranks of independent workers in their country of 2 million. Their temporary meeting space that the week came through a collaborative relationship they struck up with KinoŠiška, an old cinema turned modern center for urban culture.
When it became evident that the relationship was beneficial for both sides, the center decided to be a regular host for their coworking sessions. Having a temporary home enabled the nascent Poligon community to meet once a week for the next two years, during which they organized events, workshops, lectures, established Slovenian Sharing Day (currently in its third year), and ostensibly got some coworking done.
They also pulled together to find, obtain, and build out a space of their own. Poligon Creative Centre, the first of its kind in Slovenia, opened its doors in February of this year.
Though the space has only been operational for a few months, members of the Poligon community have already made waves with some of the most successful crowdfunding campaigns to come out of coworking. Sure, the things they're creating are innovative. But what's remarkable are the numbers: their campaigns are consistently overfunded, sometimes by an order of magnitude.
Why a coworking space also became a center for crowdfunding
As the phrase goes, necessity is the mother of invention. For the Poligon community, necessity was the reason for crowdfunding. Using the space as a home for a crowdfunding accelerator wasn't quite baked into the space's business model, but the need for alternative funding was always there.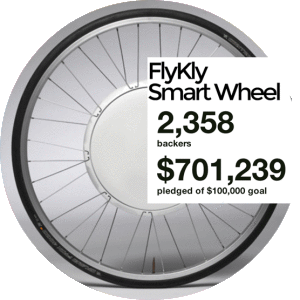 "We started by just coworking, getting people together," said Piškorič. "We were always brainstorming. We had so many good ideas for products, for startups, for companies."
But banks were not giving loans, and investors were not interested in backing projects that only need tens of thousands of dollars.
"It was frustrating to see how many great ideas wouldn't be able to make it to market. Because of the economic crisis, it seemed that we had to do something different or all this talent would go to waste," he said.
Piškorič and others were unwilling to let the lack of economic opportunity get in their way. Instead, they took stock of what they did have: a community of talented coworkers and freelancers with diverse and complimentary skill sets. If, as a group, they went in together on revenue-generating projects, then they could create their own opportunities.
"Crowdfunding was really a perfect solution. In many ways it was actually the only solution," he said. "Crowdfunding is just one example, but it's worked for us. It allows us to actually open up new opportunities for our members to improve their financial status and their options."
The Slovenian crowdfunding community has held a dozen successful campaigns which have collectively raised over $1.8 million USD.
I had to know whether they had a campaign that wasn't able to reach its funding goal, and I'm glad I asked.
"The only one that kind of failed was one based on a unique product: wooden dildos. It was a huge problem doing PR for them. Sending press releases that contained the words 'dildo' and 'sex' seemed to send most of our messages into spam folders," he said. From what we know about the importance of marketing and press in crowdfunding campaigns, this isn't a surprise. But it wasn't a complete failure—it still raised enough money that the designer was able to set up a business around it.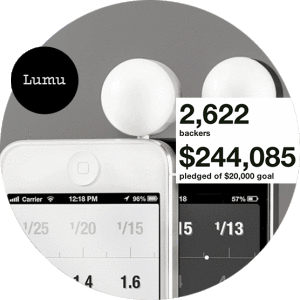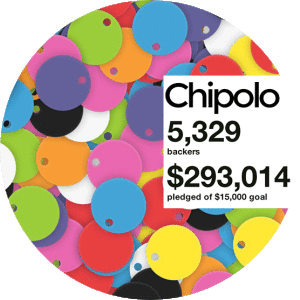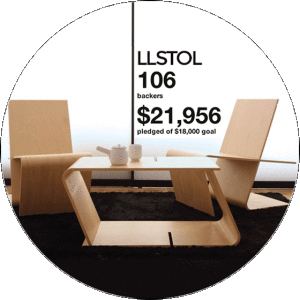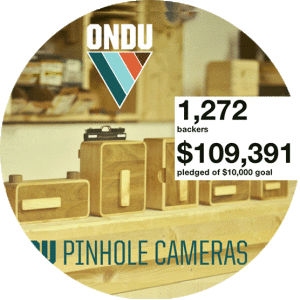 Coworking must respond to the local economic context
Coworking may be a global phenomenon, but its roots are inherently local. Every space is a physical place whose success is based on its relevance in the immediate area. While coworking is a worldwide movement, each space must play a very local role.
"In my opinion, there is a difference between coworking in wealthier places and coworking in the rest of the world," said Piškorič. "In Paris, you can choose to cowork because you simply don't want to work alone at home. But in Slovenia and in the Balkans, there are more economic problems and the context is different."
"To provide real value to members," he continued, "we have to create opportunities for coworkers to work on projects that are lucrative. I can't just be a community manager at our space, I have to push us to another level by connecting coworkers to what they need to be successful."
Aside from their crowdfunding lab, there are other ways Poligon works to grow economic opportunities for members. "We go out of our way to expose our coworkers to new concepts and new possibilities for collaboration," Piškorič said. By making Poligon a hub for other groups in the region, such as local Ruby programmers and other grassroots bottom-up communities, coworkers are able to connect with a wide range of professionals.
This has forced some cultural barriers to be pushed aside. "With coworking in Slovenia, plenty of people said, 'ah, Slovenians won't be able to collaborate together, they don't have this kind of mentality.' But that's not been the case at all."
When neighboring countries started getting their coworking communities together, Poligon shared their knowledge, model, and successes, and in turn made lasting connections that their members benefit from.
"The Balkans has huge potential to be a regional hub of creative activity – the cities of Zagreb, Belgrade, Skopje all have a lot of creatives, and we're connecting all the time."
That growth also draws professionals from farther afield, providing new avenues of possibility for collaboration. The day we spoke, a Norwegian guy was coworking at Poligon on a working holiday. It sparked a conversation and an idea.
"Norway has a completely opposite situation from us. Employment is high, people have good salaries. So my guess is that startups there might begin from a difficult starting point—there's less incentive for people to invest time and develop ideas. And in a country where things are more expensive, if you need help with branding, marketing, etc., it's just that much harder to bootstrap," he said.
"We were thinking about starting to bring startups from Norway to come to Ljubljana for a month to work with local creatives. Slovenia is a great place to live, the quality of life is really high, the food is great, in an hour you can be at the seaside, in another hour you can go skiing, etc., so it's a great place to come and work," said Piškorič.
When I asked whether he was considering creating a type of exchange program, he said, "It could be formalized, but creative tourism like this is already happening spontaneously. When I go to Berlin I like to hang out with other creatives who give me insights, show me around, take me to good parties—this is what I'm looking for in places that I travel. And it's always great to play that role for internationals who visit here."
The popularity of startup culture, coupled with a slumping economy, provides a great climate for cross-border collaboration.
"Across Europe we're having startup mania. Everyone wants to be in one. I joke that for a while it was popular to be in a band; girls liked guys who were in bands. Now the thing is to be in a startup. This is the time to use that enthusiasm."
Piškorič, for his part, seems to be. With the world obsessed with the "rockstar"—entrepreneurs are called rock stars, even middle aged philosopher Žižek has been called a "rockstar"—the only person here who's done any touring internationally lately has been Piškorič himself. Of course, he'd argue that it isn't him, but coworking and crowdfunding taking center stage. And they are, but only because they're earning their spotlight.
Image credit: Photo courtesy of Luka Piškorič.